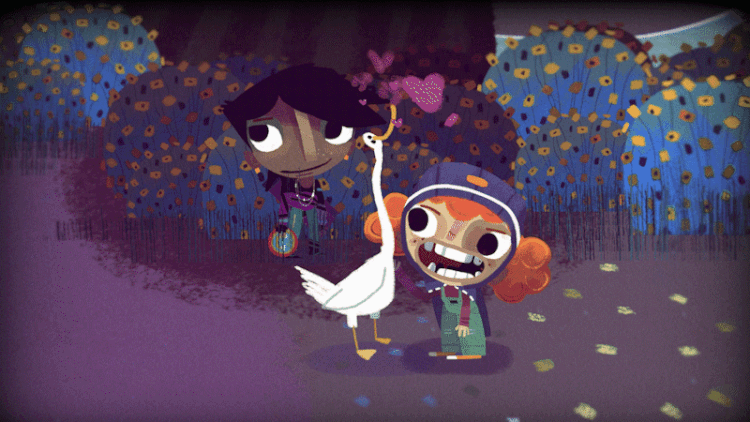 Everyone's making lists of games they've been enjoying this year. I agree, most of them are great! Here's some others that I think should be getting more attention. One of them even has a goose.
---
Can Androids Pray
Metal Gear Sombre.
I had such an unexpected response to this. Reminding me heavily of something along the lines of a Philip K Dick short, or even Future Shocks from 2000AD, Can Androids Pray is a short dialogue on belief and existentialism that really pulls you in deep. By the time I'd finished I was close to tears.
---
Electric Zine Maker
Print your own manifesto.
Look, just go and buy it. I know it's 'free' but it's worth your money.
Sitting somewhere between a Win 95 design tool, a New Media Art piece and a non-judgemental outlet for creativity, Electric Zine Maker has been one of my favourite things all year. It's frequently updated with new tools and features, with many more still to come. Embrace it. Make zines.
---
Knights and Bikes
I wanna ride my bike, all day and all night.
One of the most joyous, entertaining and heartwarming games I've ever played, wonderfully blending escapist fantasy with reality. Knights and Bikes should be massive! It's already got a hit series of books and has been optioned for a TV show. Yet, completely absent from most end of year lists.
Don't dismiss it because you think it's 'just a kids game'.
---
Dicey Dungeons
What are the chances?
Another excellent game that deservedly got a lot of attention over the Summer, then seems to have been overshadowed by all the releases over the latter part of the year.
Dicey Dungeons is at once frustrating, exciting and addictive. Really inventive approach to a dungeon crawler, with an absolutely banging chiptune soundtrack too.
---
Worlds Adrift
End of line.
Not released in 2019, but sadly that's where the journey ended. Beautiful, inventive and ambitious, as close to being my perfect game as anything is ever likely to be.
---
Alt-Frequencies
Start a revolution from your radio.
In the same sphere as Telling Lies or Her Story, but with you taking an active role in advancing a narrative told only by tuning through radio stations, with the world stuck in a 3-minute time loop. Nightvale meets The Conversation.
Excellent work from the studio behind A Normal Lost Phone.
---
Flocc
Desert Golfing for boids birds.
Relaxing flocking simulator with calming visuals and a beautiful soundtrack. Great for stressful train journeys. There's not really much else to say, just enjoy.
---
FAR: Lone Sails
Come sail away.
There's so much packed into this that it becomes hard to describe without ruining the experience. A lonely and hazardous journey across the remnants of civilisation, scavenging through the wonderfully crafted environments for anything that remains.
I really didn't want this to end. Would love to see more of this world.
The console versions came out in 2019 – it counts!
---
ART SQOOL
Draw a subtitle.
Complete art assignments set by an AI, wandering around a gloriously vaporwave-styled campus for inspiration. Try your very best at doing an art.
You'll know pretty quickly from the trailer whether you'll love or hate it.
I 💜 it and am so proud of Froshmin.
---
Was considering adding in these as well, but figure most of them are a bit more well known(?) Either way, I'd definitely recommend!
Sunless Skies
Heaven's Vault
The Bradwell Conspiracy
Telling Lies
Overland
---